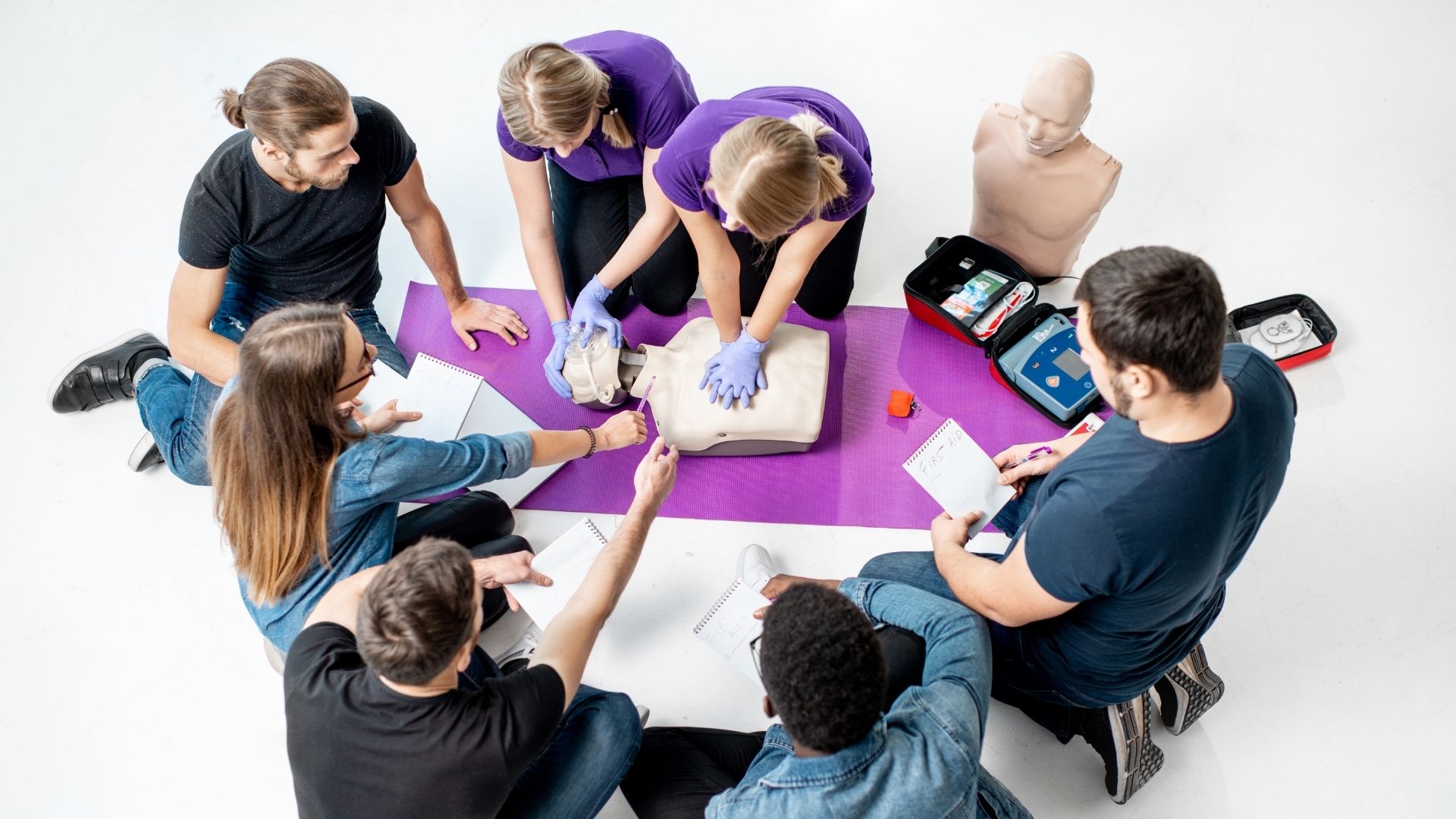 When you're thinking of learning CPR, you might be asking, "What is the average cost of CPR certification Classes in Oakland?" California is one of the many states subjected to OSHA (Occupational Safety and Health Administration) State Plans, which allows the state to create its own job safety and health program.
Oakland is a city with a dense and busy population, meaning that emergencies can happen around every corner. This is why having some basic life-saving skills, like CPR, is important.
You can expect CPR certificate providers that try to create suitable CPR classes for clients' schedules around the whole city. From online and in-person to hybrid classes, each one comes with some differences, especially if it's the price.
Before you enroll in a CPR program, you should compare the prices with different and reliable providers. To help you navigate through your research, the following article contains helpful information on what influences the price of a CPR class and how to choose the suitable course to meet your goals and expectations.
Factors Influencing the Costs of CPR Certificate Classes in Oakland
There are many CPR providers in Oakland where you can take your CPR lecture. Despite the competition in the market, almost every provider considers the same criteria when determining the price of the course.
To have a clearer picture, we provide you with the main factors that affect the price of the CPR class.
Type of Class & Materials
Depending on the candidate's goals and objectives with this class, there are different levels of CPR they can take:
Adult CPR: These are the regular CPR classes that focus only on providing first aid to persons over 18 years. Adult CPR classes are recommended for everyone who wants to be able to help in any situation.
Children and Infant CPR: These classes are separate from regular CPR and focus only on how to correctly execute CPR on infants and children. These are most recommended for parents, babysitters, guardians, or others working with small children.
All-inclusive: This class covers the theory and practice of providing CPR to casualties of all ages, including children, infants, or adults.
Depending on the provider, you may start with one course and later move on to a different one. For example, you can begin with basic training, but if you find you need more specific or elaborate skills and a certificate that verifies that you do have the needed skills, you can transfer to a different course without the need to retake the entire course.
Additionally, some providers include materials in the overall price, and others have it as an extra cost. You should always check for more details in the course or ask the customer support team.
Online vs. In-person vs. Hybrid
Another significant factor that affects the price of the CPR classes in Oakland is the program you wish to enroll in. There is a notable difference in price when it comes to online or in-person classes. The in-person classes at the Red Cross Organization, for example, cost double that of online classes.
Essentially, the limited participant capacity is the main reason in-person classes cost that much. The number of in-person classes is always capped, whereas online classes can have an unlimited number of participants.
Another significant factor about the certificates is that online classes are not OSHA-certified. In other words, the online certification may not meet the workspace or other regulatory requirements, so the candidate may need to take more classes to meet those goals.
Ultimately, the hybrid classes come as the best option. These classes allow candidates to follow the course in person, and whenever they miss the opportunity or cannot join the group, they may follow online. Of course, since there are in-person practices, the hybrid classes are OSHA certified, and the candidate may not need to take any additional classes to meet workspace regulations.
Level of CPR
The final factor that affects the price of some CPR providers in Oakland is the level of education. If a candidate wants to learn adult-only CPR (level A), they will pay less than a candidate who wants to learn adult, child, and infant CPR (level C).
The level C courses last longer than level A or level B (babies-only CPR) classes as they cover children and infants CPR as separate topics. Therefore, when choosing a class, ensure that the specifications are within the frames of your goals and objectives.
Average Price Lists for Different CPR Classes in Oakland
Big metropolises like Oakland have various CPR providers that offer either certificates or cards that prove you have the knowledge of the CPR basics. Normally, the prices vary from provider to provider, but they are more or less within the same range.
In the content below, we will point out the prices from different providers for the same course.
Online
In-person
Hybrid
Adult CPR/AED
Red Cross: $37
Red Cross: $55
Red Cross: $105
My Certifications Online: $25.95
Children Infant CPR/AED
Red Cross: $37
Kaiser Permanente: $40 + discounts for other members
Adams Safety Training: $80
My Certifications Online: $25.95
Red Cross: $90
All-inclusive
Red Cross: $37
Red Cross: $55 (if the candidate took the online class) otherwise $126
Red Cross: $85 or $126 (depending on the date)
My Certifications Online: $25.95
CPR Classes Oakland: $59.95
Nightingale Healthcare Professionals: $96 with a book
Picking The Best & Most Affordable CPR Certification Classes in Oakland?
Picking the best option for you begins by finding a trustworthy CPR provider that issues valid certifications. You will find extremely cheap classes in Oakland, but the certificates may not be valid, or they may only verify the skills with a card, which is a huge difference. Therefore, make sure that you always follow trustworthy providers.
Otherwise, the best class option for you depends on your goals and objectives. If your job position requires you to have certain skills in providing first aid help, then you may need to consider advanced courses like BLS (Basic Life Support) instead of CPR.
These are specifically designed for people in the medical industry or first-responding teams. Or, if you are a parent or professional babysitter, you should consider the infant and children CPR classes whose curriculum focuses only on that cause.
Most importantly, you should always check if the certificate comes from an accredited institution. Without this point, your certificate is not valid at work, even though you have or do not have the required skills.
Conclusion: What is the Average Costs of CPR Certification Classes in Oakland
To wrap up this article, there are many factors that may affect the average cost of CPR certificate classes in Oakland. Some courses are online, while others are only in-person. There are also ones that give the option to follow the classes in both ways – online and in a classroom.
However, what you must know before you enroll or choose a provider is to check if the certificate is according to and given by an accredited organization, especially if you need the certificate for your job. There are many cost-effective programs and certificates online, but they are not valid, which automatically makes your certificate useless.
Ultimately, the last piece of advice when choosing the best CPR class is to read the reviews. There are many forums outside the scope of the site where you can find real user testimonials about the program and overall experience. Read, and evaluate the class, then enroll.